(Above samples are mp3 format and you must download before playing)
Personnel: Al Pearson, trumpet, flugelhorn; Bobby Watson, alto sax; Doug Talley, tenor sax; Wayne Hawkins, piano, organ; Ricky Anderson, bass; Mike Warren, drums; Michael DeLeon, percussion
Recorded August 16 and November 24, 1997 at BRC Audio Productions, Kansas City, MO; Bill Crain, engineer.
'Bout Time is available at the following locations in Kansas City:
Kansas City Jazz Museum 18th and Vine
Streetside
Music Exchange
Borders on the Plaza
Borders on 119th and Metcalf
Antioch Music
Barnes & Noble
'Bout Time is also available via direct mail for $15.00 + $2.25 S&H
Send Check or Money Order To:
'Bout Time
4526 N. Kelsey Rd.
Kansas City, MO 64116-2022
Please Allow 2 Weeks For Shipment
For More Information:
apearson@kc.rr.com


Reviews
What a great way to celebrate spring, 1998.
Trumpeter Al Pearson's new CD, 'Bout Time, is a solid effort, start to finish, beginning with "That's Right," a Lee Morgan composition (listen for Wayne Hawkins' Jimmy Smith-style organ) right up through "This is For Albert" by Wayne Shorter (featuring the album's guest, Bobby Watson).
While many of the tracks on 'Bout Time are up tempo, the band's treatment of "Love For Sale" is actually quite haunting, much as it was intended to be when Cole Porter first penned it for "The New Yorkers" in 1930.
Al Pearson lets it blow.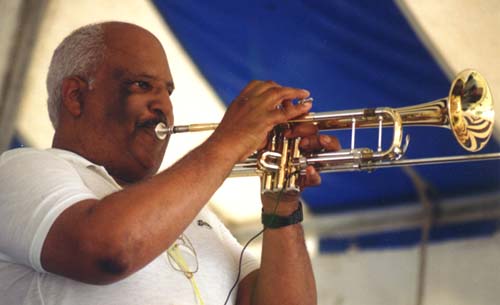 I've always enjoyed hearing bassist Ricky Anderson live. I can now say that it is a treat to hear him on CD. He sounds especially good on "Save Your Love For Me," a cut that showcases Al Pearson's romantic side.
Another standout track is Benny Golson's jazz anthem, "Whisper Not," next to "I Remember Clifford," probably his best known composition.
Doug Talley's tenor makes "Nature Boy" a winner, as does the interaction between drummer Mike Warren, percussionist Michael DeLeon and Bobby Watson on "A Baptist Beat," "Guitaca City" and "This is For Albert."
Al Pearson is a warm and inviting soloist, much like the late Carmell Jones. (It was nice to hear Carmell's "Jayhawk Talk," the title cut from his 1965 Prestige release.) There are similarities between the two trumpeters -- neither are really hard boppers even though their playing is based on bop fundamentals.
Even if it weren't springtime, 'Bout Time would be a worthy addition to your jazz CD collection. Great tunes, performed by some of Kansas City's finest jazz musicians, and with Bobby Watson sitting in on six of ten cuts... This is one to enjoy.
-- Bill O'Connor

AL PEARSON presents 'BOUT TIME
CADENCE Vol. 24 No. 9 September 1998
Trumpet and flugel player Al Pearson's debut hits the spot right away with Lee Morgan's "That's Right," buoyed by Wayne Hawkins's widescreen organ sound, and a Messengers-like arrangement for the horns. Pearson started in Philadelphia, where he backed a number of classic Motown acts, as well as Jimmy Heath, Jackie McLean, and Clark Terry. Now a resident of Kansas, he's also done time with Jay McShann and Claude Williams. For 'Bout Time, he's assembled a tight band of peers who give special guest Bobby Watson a run for his money.
Watson knocked me out when I first heard him years ago, and he does the same here. He shapes his phrases in arcs and valleys that make for a vivid journey every time out.
Tenor saxophonist Doug Talley provides a perfect match, with a smoky, bluesy approach that nicely complements the altoist's rhythmic push. Pearson has a great feature on a fabulous "Love For Sale," where he paints in wanly ironic strokes before the tune kicks into various tempi for the soloists. Drummer Michael Warren makes a big impression with his sensitivity to color and dynamics. The group shares this last trait as a unit, knocking out the changes to "Whisper Not" with inspired empathy, and breathing as one on Wayne Shorter's "This Is For Albert." Excellent stuff.
Pump up the volume on Pearson's disk the first time through and you'll be immediately impressed.

Al Pearson: 'Bout Time
(Pearson Productions):
Trumpeter Al Pearson plays in just about every big band in Kansas City. This CD, his debut, was named 'Bout Time, he said, for obvious reasons.
From the first cut, "That's Right," to the last tune, "Guitaca City," this swings hard with Kansas City sound. The musicians blend well, play dynamics and keep the energy going on every tune. As a bonus on some tracks, guest artist saxophonist Bobby Watson sits in.
Our favorite tune is the late Carmell Jones' "Jayhawk Talk," a funk-rock piece that is impossible to listen to without dancing to its groove. It features the wild screeches and flying fingers of tenor saxophonist Doug Talley playing far outside the chord changes and Pearson's own sizzling solos. Underpinning the entire tune, bassist Ricky Anderson is laying down his funky, relentless bass lines.
All content (c) 1998 The Kansas City Star

Liner Notes
Al Pearson- 'Bout Time
'Bout Time"... The title says it all - It's about time that Al Pearson released a recording under his own name! I have seen and heard Al many times over the past few years. He is an important voice in a number of big bands in Kansas City; Steve Miller, Blvd. Big Band, Vince Bilardo and Trilogy. He can also be found playing casuals with many of the city's best musician.
Al began his musical career in Philadelphia doing casuals, shows and studio work. He worked in groups lead by Philadelphia bandleader Sam Reed that backed the likes of Stevie Wonder, The Four Tops, Smoky Robinson and Sammy Davis, Jr. The jazz side of things found him working with another Philadelphia bandleader, Owen Marshal, backing up Al Grey, Jimmy Heath, Clark Terry and Jackie McLean, among others.
The next phase of Al's career found him in Phoenix, Arizona, where he attended and graduated from Mesa Community College. Al followed this by enrolling at Arizona State University as a Business Major and received a B.S. in Business Administration. Since his field was Computer Science, Al has specialized in computer work for over twenty-five years. Al played all the while at A.S. U. and had a chance to do concerts with Marvin Gaye on his last concert tour.
Next on the Al Pearson agenda was a move to Kansas City. It didn't take long before Al was working with some of K.C.'s best musicians; Jay McShann, Claude "Fiddler" Williams, Carmell Jones, Arch Martin, Bill Caldwell, Ahmad Alaadeen, Everette DeVan and many others. More recently Al has performed as trumpet soloist with any number of jazz groups and, has backed Queen Bey for some time now.
For this new release (recorded in August and November 'in 1997) Al has utilized some fine players from the K.C. area: Doug Talley, tenor sax: Wayne Hawkins, piano and organ: Rickey Anderson, bass: Mike Warren, drums and Michael DeLeon, percussion. A very big plus comes with the addition of internationally known alto saxophonist (from Lawrence, Kansas) Bobby Watson.
THAT'S RIGHT: A great opener! This is right out of the mid-50's Funky/Hard Bop style and reminds one of Art Blakey's Jazz Messenger Groups or the work of Jimmy Smith (Wayne Hawkins plays organ on this track). A Lee Morgan tune and a Louis Neal arrangement.
WHISPER NOT: Next to "I Remember Clifford," this is probably Benny Golson's best know composition. Al's special guest, alto saxophonist Bobby Watson. begins the outstanding sequence of solos.
LOVE FOR SALE: This is Steve Harold's swinging arrangement of Cole Porter's "Ode To the Oldest Profession." Porter wrote this classic for the 1930 Broadway show, "The New Yorkers".
NATURE BOY: This unusual 1948 pop song by Eden Ahbez became No. 1 on the charts thanks to the famous Nat "King" Cole recording. This version features some very tasty trumpet by Al and equally fine work by Doug Talley. Incidentally, it's an excellent touch to do this tune in a medium Latin style.
JAYHAWK TALK: This composition is by one of K.C.s greatest gifts to the world of jazz, Carmell Jones. Carmell wrote this composition and recorded it as the title tune for his 1965 Prestige recording. This track features great solos all around and was arranged by Gary Nelson.
WHAT'S GOING ON: Marvin Gaye, with whom Al worked earlier is one of the composers of this number. The Latin feel is all the more pronounced through the excellent work of drummer Mike Warren and the addition of Michael DeLeon's percussion work.
SAVE YOUR LOVE FOR ME: A wonderful "slow dancin" feeling on this Buddy Johnson classic. Al's restrained approach proves that less is more. A very tasty track.
A BAPTIST BEAT: A real toe-tappin', finger-snappin' piece by the vastly under appreciated (to me at least) tenor saxophonist, Hank Mobley. This has that exciting down home sound of Cannonball Adderley's groups.
GTJITACA CITY: Paquito D'Rivera's work done in a super swinging style. Again, special guest artist Bobby Watson helps make this a winner.
THIS IS FOR ALBERT: This final track is one of my favorite Wayne

Shorter's compositions that is another exciting performance. Bobby
Watson is on board again and the solos are all terrific.
In closing, let me say, what a pleasure it was hearing this new CD. Al is a very fine artist and truly nice human being. Al, I hope you're already thinking about your second release!